Coupon codes are an easy way to increase the number of runners at your event and help you sell out your race faster. RunGuides can help you spread the word quickly!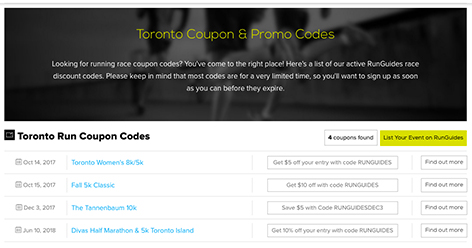 The program is simple. Users come to RunGuides looking for runs, we let them know about any local race discounts with monthly emails and placement on our race calendar.
Does this cost anything?
It's free to list a discount code on RunGuides and appear on the coupon codes page.
If you offer a commission per coupon code redeemed then we will give you additional marketing:
Give your event guaranteed placement in emails that we send to runners
Enhance your event page with calls to action to increase conversions
Run re-marketing campaigns directing our audience back to your event
Is there a minimum discount that I have to offer?
No minimum discounts required. Set an offer that works with your numbers!