Contests and Giveaways with RunGuides
Looking for a fun and engaging way to connect with runners? Let RunGuides host a contest for you! It's quick and easy to set up. You provide the prizing, we promote a giveaway themed around your brand to our members. That's it!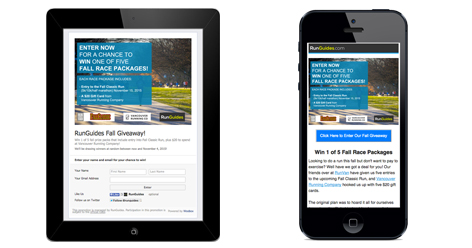 The program is simple. We work with you to put together a prize pack that appeals to runners. Once the prizing is set we:
Create a contest that users can enter by submitting their email
Incentivize entrants to share by giving them bonus entries for sharing on Facebook/Tweeting etc.
Giving entrants the option to opt in to various email lists
We promote the contest to our members with dedicated emails, and, in some cases with targeted Facebook ads.
Can I target specific markets
Yes! We can run giveaways that target specific markets, or scale things up and target our entire North American audience.
Why Run a Contest With Us?