RunGuides helps people achieve personal greatness by connecting them with running events in their community. We offer specific, relevant information to people that are searching for runs. Keep reading to learn more about our users, our website, and how we can help you market to runners.
RunGuides helps people find running events in their area. Get our website facts and learn about how people find and interact with our website.
Our users are active, engaged, and inspired by their event experiences. From casual/social runners looking for fun runs, to more serious athletes focussed on performance; learn about the people who are on RunGuides now.
Communicate with our niche audience. RunGuides can put you in front of users who are interested in, and actively searching for running events and endurance products.
Do you represent a product or brand?  We can work with you to make sure that you're always in front of our audience.
Do you represent an event?  We can help you sell out your event faster.
Here's how we can help….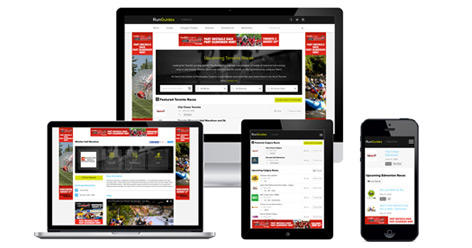 Our site takeover gives you the opportunity to take over 100% of the available banner space in any RunGuides market. Perfect if your goal is to get in front of as many eyeballs as possible.
Branding campaign benefits
The most reach possible. You own 100% of our banner space.
No cap on impressions during your campaign.
Fully custom and trackable campaigns.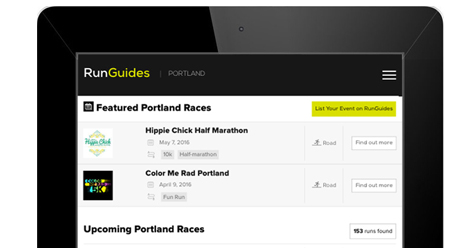 People use the RunGuides race calendar to help them find runs in their city, featured events get pinned to the top of our race calendar.
More traffic to your race, more runners signing up.
Featured event benefits
Simple and effective way to get more traffic to your event
Cost effective promotion for races on a budget
Quick and easy to activate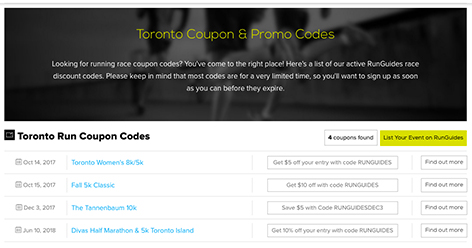 Coupon codes are an easy way to increase the number of runners at your event and help you sell out your race faster. RunGuides can help you spread the word quickly!
Coupon code benefits:
No risk, you set your discount and quantity of coupons.
Get included in emails that are sent out to our members.
Quick and easy to set up.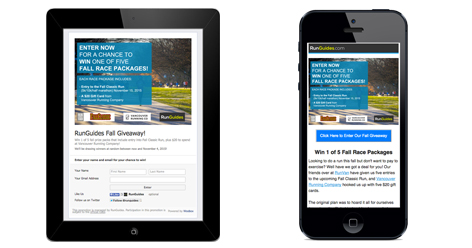 Running a contest or giveaway through us is an easy and fun way to connect with our audience. We work with you to put together a custom prize package, then create and promote a contest to our audience.
Contest/giveaway benefits:
Contests get dedicated promotion to our email subscribers.
Viral marketing potential. Participants get bonus entries if they share contests.
High engagement rates.